Constant Voltage Transformer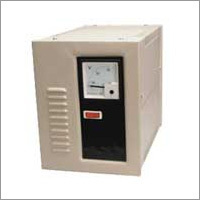 Constant Voltage Transformer
Product Code : SC 03
Brand Name : VELSON INSTRUMENTS SERVICES
We offer a broad gamut of Constant Voltage Transformer (CVT) to our clients. These are used in situations where low voltage and current is suitable for operation of equipments but the power supply is transmitting high voltage and current. Manufactured used advanced machines, our technocrats have preferred high quality material to promote its long service life. This ideal for household as well as commercial applications. Its prominent function is to protect devices from recurring voltage fluctuations by supplying constant voltage and current input. We have fairly priced these Constant Voltage Transformer (CVT) for our clients.

Key Features:
1. We can make these available in a variety of specifications as per customer demands.
2. This requires very less maintenance.
3. It is extremely easy to install this in your premises.



CAPACITY
150 VA TO 5 KVA.
INPUT VOLTAGE RANGE
180 TO 275V (RATED LOAD).
160 TO 275 V (80% OF RATED LOAD).
200 TO 275 V (120% OF RATED LOAD).
FREQUENCY
50 Hz + 2.5 Hz.
OUTPUT VOLTAGE
220V (TAPS AVAILABLE FOR 230V / 240V).
VOLTAGE REGULATION
+2% AT RATED LOAD AGAINST SPECIFIC INPUT VOLTAGE.
LOAD REGULATION
+ 2%.
WAVE FORM
SINE WAVE.
HARMONIC DISTORTION
LESS THAN 5%.
RESPONSE TIME
30 MILLI SECONDS.
ISOLATION FORM MAINS
ULTRA ISOLATION.
SHORT CIRCUIT PROTECTION
VOLTAGE STARTS DROPPING AFTER LOAD.
OUTPUT NEUTRAL VOLTAGE
MAINTAINED AT ZERO. FLOATING O/P CAN BE PROVIDED ON REQUEST.
AMBIENT TEMPERATURE
UP TO 550C AT 95 % R H